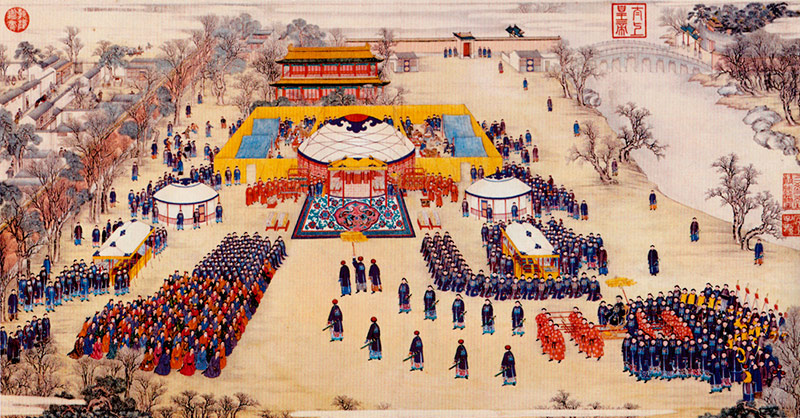 The Ultimate Imperial Feast
Here in the United States it's Thanksgiving time! I'm thinking roast turkey, cranberry sauce, creamy pumpkin pie, and… bear paw and sea cucumber?
Wait, that's another feast altogether. We'll come back to that soon.
The Thanks They Were Giving
Thanksgiving commemorates the Pilgrims' first harvest celebration in the New World. After pulling through some difficult times, they were looking forward to new lives of religious freedom, self-reliance, and friendship with the natives. So they threw a splendid party, and thanked God for benevolent protection.
Nowadays, Thanksgiving heralds the biggest meal of the year. But for the Chinese, another historic banquet evokes the ultimate sumptuous feast.
A Feast of Imperial Proportions
During the Qing Dynasty (1644-1911), China was ruled by the Manchurians from the north. Alas, early on, Manchus and ethnic Han Chinese weren't the best of friends. The great emperor Kangxi, though, realized that in order to consolidate his dynasty's power, he had to bring everyone together.
So on his 66th birthday (almost exactly 100 years after the first Plymouth Thanksgiving), the emperor held the inaugural Manchu-Han Imperial Feast. This was a three-day, six-banquet ceremony that featured the best of the best.
At this time, China was a vast empire encompassing many ethnic groups and tributary states. This Manchu-Han Imperial Feast brought together the finest recipes and delicacies from every region. Many exotic ingredients had to be scavenged from deep forests, high mountains, and distant seas. Then, back in the imperial kitchen, palace chefs went all out roasting, stir-frying, deep-frying, steaming, boiling, baking, braising, and stewing so that throughout the banquet attendees could taste over 300 dazzling dishes.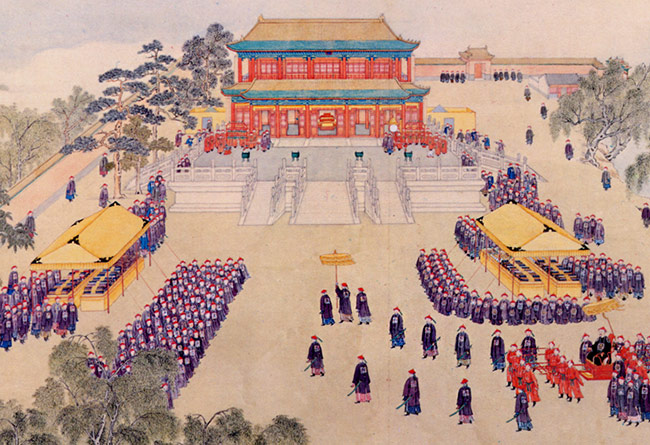 What's on the Menu?
So what would you expect in this lavish spread? To give you an idea:
Egg tarts, roast salmon, beef tenderloin in oyster sauce, whole suckling pigs, steamed camel hump with fish maw, carp tongue with bear paw, bird's nest soup, shrimp roe and mussel soup, shark fin and crab stew, dragon's beard noodles, lotus seed congee, prawn kabobs, shiitake mushrooms with pine nuts, quail, magpie, pheasant, partridge, goose, guinea fowl, peacock, swan, crane, sautéed conch, abalone with osmanthus flowers, wild boar, deer sinew with white fungus, squid and mallard wraps, coral, lotus root, edible moss, bamboo shoots, sea cucumber…
Now if some of these sound a bit bizarre for your palate, know that the main entrée at the first Thanksgiving meal was not turkey. The Pilgrims' table held an ample supply of venison, wild fowl, shellfish, and eel.
During the great Manchu-Han Feast, a variety of fruits, pastries, and appetizers were also served between courses. Of these, there was a dazzling array too.
Imagine fresh, dried, and candied pomegranates, loquats, lychees, longan, peaches, ginkgo, cherries, kumquats, melons, plums, sugarcane, water chestnuts, cashews, almonds, and walnuts; frost-preserved persimmons, pickled herbs and seaweeds, sesame paste mochi rolls, stuffed pancakes, all sorts of dumplings savory and sweet, crystal plum blossom buns, hawthorn jelly, pineapple cream custard, honeyed tomatoes, lotus leaf congee, jujube pudding, all coupled with the best of regional teas…
And that was only a sample!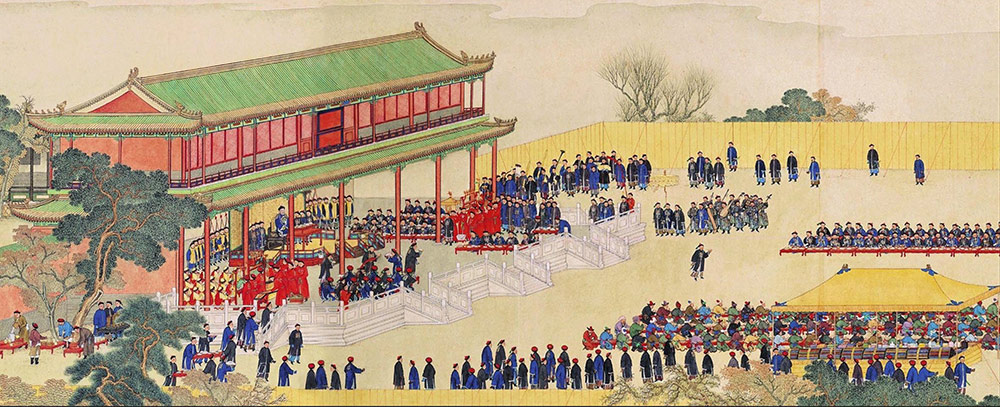 The emperor's guests were top Manchu and Han court officials, as well as princes from tributary states and esteemed foreign envoys. These VIPs had the honor of dining in the splendid halls of the Forbidden City palace.
During the meal, the table was reset four times, with each spread alternating between Manchu and Han cuisines. Large serving vessels were fashioned to resemble animals (ducks, chickens, fish, and pigs) and kept their contents heated. These dignitaries dined with fine bronze, silver, and porcelain wares, while enjoying music from master instrumentalists. And when everyone's filled to the pharynx, they were sent off with luxury parting gifts.
The Power of Food
So after all that exquisite feasting, did the emperor's plans succeed? Let's just say that the Manchu-Han Imperial Feast became an established tradition and emperor Kangxi one of China's most respected and longest-reigning emperors. (Okay, that was achieved by more than just noshing… but food's still great at bringing people together.)
Well, I can't wait for Thursday. Qing sweets sound tasty, but no bear paw for me. I've got my eyes set on some stuffing and pie this Thanksgiving.

2015年11月22日