Shen Yun Reviews: Shen Yun 'Absolutely phenomenal, breathtaking,' says Canadian Legislator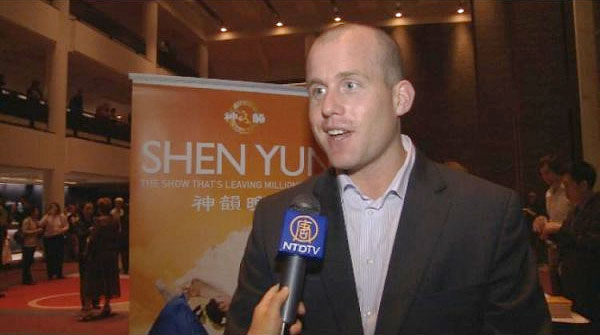 REGINA, Canada—Saskatchewan Member of the Legislative Assembly, Trent Wotherspoon, on seeing Shen Yun Performing Arts for the very first time, said the show was "just a breathtaking performance, beautiful."
He was at the New York-based Shen Yun opening presentation at Regina's Conexus Art Centre on April 3 with his wife, Stephanie.
"My wife and I were both privileged to come here this evening and see classical dance that represents the great history, thousands of years, just a beautiful, beautiful display," Mr. Wotherspoon said.
He said not only did the show portray China's 5,000 years of traditional history, but also the dances told stories taken from ancient legends, folk tales and modern stories of courage.
"It's something that's incredibly unique. The colours added to it; it is just an absolutely breathtaking performance."
Mr. Wotherspoon particularly enjoyed Wu Song Battles the Tiger.
"The one where the individual had a few too many at the tavern and made his way up into the mountains on a tiger hunt, and coming back with the tiger. There was some humour involved in that one as well, but just a beautiful, beautiful display of dance."
The Canadian politician said the community was privileged to have Shen Yun come to Regina.
"To have a show like this come to our centre and to have a show that's travelling the world come to Saskatchewan is just of great pride for myself. I wish all of the organizers incredibly well with their world travels and their display, and it's just a real opportunity … I'm so pleased that it's stopped in Regina," Mr. Wotherspoon enthused.
And how would he rate the production? "Absolutely phenomenal, breathtaking. If we're talking a numerical scale, a 10 out of 10 without a doubt. Just the organization and the dance is done impeccably well. And anybody who is able to see the show will realize what a privilege that is. So thank you so much."
Mrs. Wotherspoon, who is a dancer, said, "The dancing tonight has been fabulous, the classical movement, the jumping ... its been wonderful to watch."
She said the female dancers were "beautiful, their movements are very flowing. They're soft, they're elegant, so it is wonderful to watch. I've been sitting in the audience on the edge of my seat, it's been wonderful."
Of the male dancers, she said they were "very strong" and "very entertaining."
Mrs. Wotherspoon was impressed by the way the dancers came together, "how precise they are and how together they are. You can't take your eyes off them, everyone's arms are perfect, their legs and toes, everything is absolutely perfect. That makes it very, very outstanding. The choreography is very smooth. I think those dancers are unbelievable. They are well trained and executed perfectly."
Although she hadn't danced competitively or on stage for many years, the Shen Yun dancers inspired her.
"It's nice to learn a new type of dance or even imply it into your own world, as well too," she said. "So I think learning the new pieces and new movements is very educational and very unique."
With reporting by NTDTV.
2010年4月4日